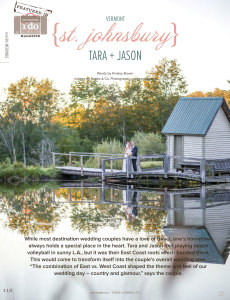 We're feeling the love these days!  While wedding season is in full swing and keeping us happily busy, so is the press.  In the coming days and weeks we'll have lots of  great stuff to share with you, including mentions on some of our favorite blog posts, more magazine features, as well as glimpses into some of the weddings we've worked on over the past months.
We're pleased to share another press feature with you- this time for Destination I Do's Fashion Issue!    Bride and Groom Tara and Jason  met in California, but their shared East Coast roots inspired them to have a destinantion wedding back here in Vermont at the Alerin Barn.  This was such a fun wedding to participate in- from the fireworks to the playful (and inspired!) use of picture frames, and tons of special moments in between.
Check out a full photo gallery from this lovely event on our Weddings page.
All photos by Meg Hamilton of Rodeo & Co.