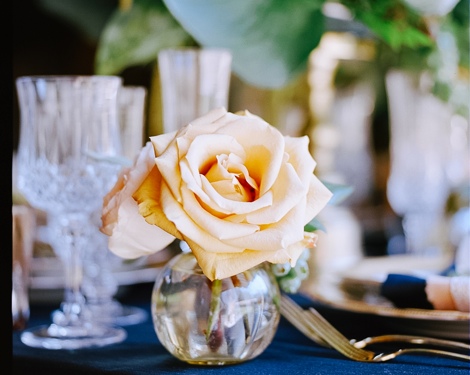 Back in early June of 2013 I had the pleasure of collaborating with the wonderful people at the Bishop Farm in Lisbon, NH along with Meg Hamilton of Rodeo & Co Photography, Emily Rose Riggs Bridal, Fresh Salon & Day Spa, Be Our Guest and other amazing vendors to create an inspiration shoot for WellWed Magazine.  This is the 2nd time I have been featured in WellWed Magazine with the intention of inspiring new brides and wedding clients in Maine and NH. I am ecstatic to be part of such a lovely publication again, check it out here (pdf) or on the Press Features page
Working with other event professionals to create inspiration for my clients is part of what makes my career so exciting and rewarding!  There is nothing like seeing my work in print!  With flowers having such a short shelf life, magazine features allow my work to live and inspire long past the life of the flowers!
This shoot drew from vintage, 1940's glam style, incorporating gold, navy blue, and emerald green with pale peach and nude tones (all very popular in 2013),  Being blueberry season and the farm setting, this helped us carry a subtle theme though out that did not over power.  Adding a subtle theme to your wedding décor can create continuity that creates a perfect balance and just enough detail to keep thing interesting!
I hope you enjoy and are inspired!