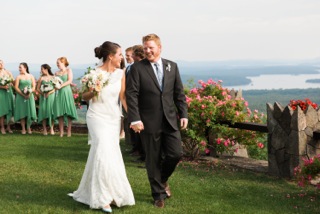 Just a few short weeks ago (June 28 to be exact), Sarah and Eric were wed at The Castle in the Clouds in Moultonborough, NH.  I had the pleasure of meeting up with Sarah and Eric for a planning session at Sonsie – one of my favorite Boston lunch spots- where we got to know each other and bond over our shared love of beer.
Planning each wedding is as unique as the couple themselves, and in this case the bride and groom had a few personal style contributions of their own. Sarah added lots of handmade details to the table settings- like custom votive holders, antiqued watering cans, and the sweetest little bird houses. Eric brought his passion for brewing beer to the party with hop buds that we tucked into his boutonniere. It's so much fun working these personalized touches into the weddings I do.
My weekly trips to the Boston Flower Exchange give me a chance to make the most of the day by meeting with clients like Sarah and Eric – whether it's over a meal, visiting the Be Our Guest Showroom, or a stroll through the Boston Flower Market. Since I offer event styling with my wedding services, working one-on-one like this helps me get the perfect linens and other rental pieces for each wedding.
Photographer Lindsey Ocker captured the day for Sarah and Eric – and she did an amazing job.  It is with great pleasure that I share these images that Sarah so kindly forwarded my way!
Flowers used in this wedding:
Single Peonies, Sarah Bernard Peonies, & Hostas – Sourced from Reggie Tarr of Tarrnation Farm, Franconia, NH
Double White Peonies – Sourced from EH Floral's own gardens, Littleton, NH
Viburnum
Thistle
"Caramel Antique"  Garden Rose
Mint
Garden Spray Roses
Ranunculus